Springboard to Heaven
The Jojo Sayson Adventure
with James Riordan
Introduction by Leo Riingen


"A life-changing motivational book"
This Book Will Help You:
Learn the Art of Knowing to Create a Better Future!
Tap your Unlimited Potential and connect with the power of the universe!
Attract the kind of people you want in your life!
Connect with the Creator in a personal way beyond what you've been taught before!
Learn what God expects from you and wants to give you!
Discover the Keys to Happiness and Fulfillment!
Understand the Science behind Miracles and the Miracles behind Science!
Embrace becoming Childlike so that God can reveal to you his Loving Heart!
Conquer the Trials of this Life to experience its rewards and pave the way to Heaven!
---
Jojo Sayson
Internationally renowned educator and motivational speaker
Research Scientist, National Aeronautics & Space Administration (NASA) Human Research Program, University of California, San Diego
Physical Therapist and Doctor of Manual Therapy
Adventurer, Philanthropist and Philosopher
Founded The Alliance of Superheroes for children with cancer
Lieut. Commander, Philippine Coast Guard Auxiliary, 103rd Squadron
Choreographer for Bodybuilding. Fitness, Beauty Pageant, and
Professional Modeling Events
Founded Project Michelangelo Foundation
---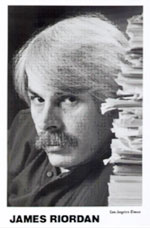 Rare is it that any author will have one of his books described as the definitive work on a particular subject, but such a distinction has been bestowed by critics on no less than four books written by James Riordan. The New York Times Bestseller, "Break on Through," Riordan's biography of Doors lead singer Jim Morrison, has not only been called "the most objective, thorough and professional Morrison biography" by the Times Book Review, but also named as one of the Ten All Time Best Rock Biographies by Amazon.com. Riordan's "The Platinum Rainbow" was called "One of the best how-to books ever written" by the Los Angeles Daily News and critics described his "The Bishop of Rwanda" as "one of the most important books you'll ever read." "The Coming of the Walrus," Riordan's novel about the '60s has been called "the definitive book on the era." The author of twenty-seven books, James Riordan has won three Tellys,
seven Crystal Communicators and been nominated for a Chicago/Midwest Emmy for Television writing.
---
Jade Pacifica Enterprises LLC